Together with our sister projects in the synergy group DigitalWater2020, digital-water.city will be at this year's FIWARE Water Day on 17 September 2020, from 14:00-16:30 (CEST). We will be presenting the DWC early warning system for water reuse, currently being trialed in Milan. FIWARE Water Day is part of the Domain Days organised by the FIWARE Foundation and with the contribution of the FIWARE Community.
Registration is now open! Click here to sign up.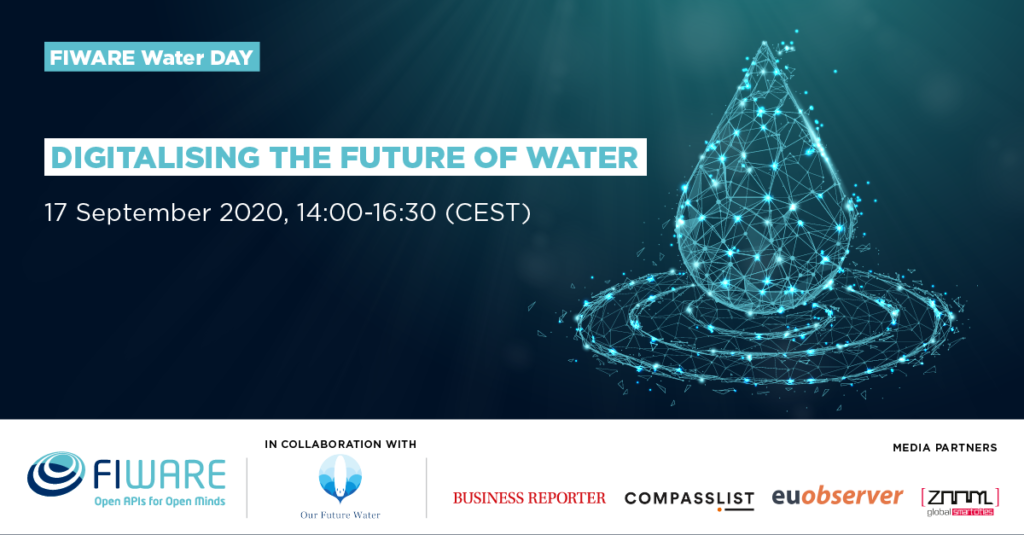 THE FIWARE WATER DAY "Digitalising the Future of Water"
Linking the physical and digital world with Open Source and Standards for more efficient resource management.
Water is one of our most precious natural resources, it is at the very heart of our daily activities and a key element for global well-being and sustainable economic growth. We need to accelerate progress to face critical challenges such as growing scarcity along with rising demands due to factors such as drought, overuse, leaking pipes; lack of access to safely managed drinking water and sanitation services, wastewater treatment and reuse, etc.
The efficient and sustainable management of water distribution systems is not an easy task if we want to ensure safe and reliable freshwater supply to consumers while maintaining efficiency at a low cost, something which is fundamental in almost all industries, from farming to robotics.
Nowadays, a wide range of advanced tools and strategies are used to address pressing challenges in the water sector: from water quality simulations to modeling of water distributions systems, the water domain has not yet reached a satisfying level of maturity when tackling digitization challenges such as fragmentation, lack of a holistic vision, or integration and standardization of the technology.
The objective of the session is to analyse how to overcome those challenges from different perspectives, how we can do more with less water in a sustainable manner, from innovation in technology to financing, business models, partnerships and policy as main enablers for society and businesses to make effective change happen.
This free virtual experience will also invite FIWARE Community experts to discuss how Open Source technology and key standards are contributing to the ability and speed to address urgent challenges and the needs of society and the world as a whole.
TO REGISTER FOR THE FIWARE WATER DAY, CLICK HERE. 
Make sure to use #FIWAREWaterDAY when promoting it!