The Augmented Reality (AR) mobile application integrates a 3D geological model of the Berlin area with groundwater flow and quality simulations to immerse the user into the geological subsurface. It relies on the potential of Augmented Reality to inform the public about the role and challenges of groundwater in an engaging and informative way. The application may be used anywhere in a table-top mode to access a holistic view of the Berlin Area and individual sites of interest (e.g. specific drinking water wells, lithological structures) or location-based with site-specific information on aquifers and groundwater flow.
Challenges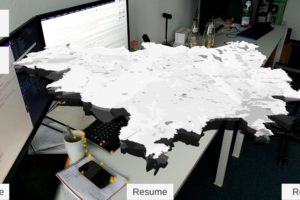 Groundwater and the drinking water extraction processes are crucial but hidden components of the water cycle difficult to assess, to evaluate and to communicate. Groundwater processes are typically shown using schematic visualizations, physical sandbox models or numerical models. The digital solution expands these traditional visualisations into spatial, interactive views combined with a strong narrative to appeal to a broad audience, ensured by user centric design.
Limitations of current practices
Virtual Reality and AR tools are being increasingly developed in all kinds of disciplines facilitating "looking inside" otherwise hidden structures and processes. In geosciences, available products include 3D data visualizations or superimposition of interpolated information to surface views but no dedicated tool is available for groundwater visualization. Most user facing mobile applications by utility companies address consumption/ billing or provide general information on water quality or outlet location. This AR visualization will go beyond the state-of-art by providing both a location-based look into underground processes, as well as an innovative table-top view that can be used anywhere.
Innovation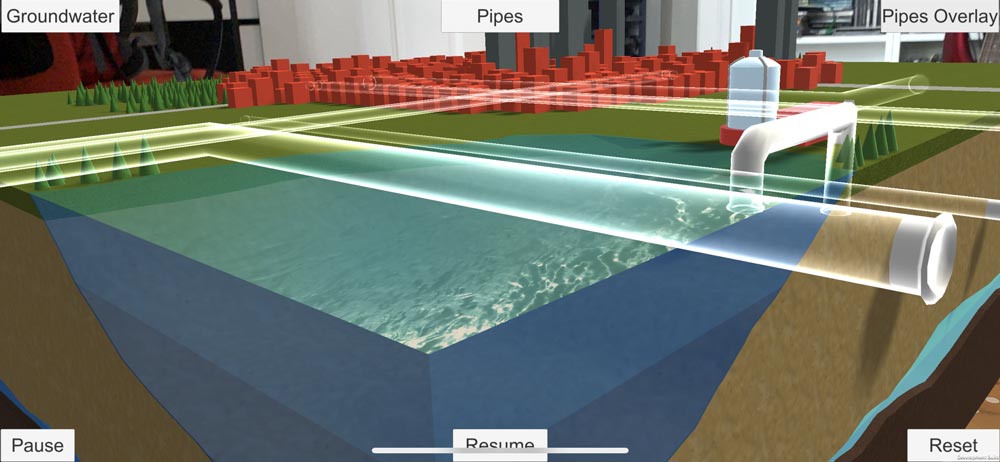 The solution provides a new communication channel between utility and citizens. The ability to run and visualize simulations goes beyond the static depiction of facts and figures, it allows interacting with the public and assess its perception on drinking water sources. It enables the visualization of geology and groundwater and highlights its relevance as drinking water resource and "hidden part" of the water cycle. The application can be used for multiple communication purposes (tourism, education, conflict management, discussion with environmental agencies, etc.) making geology and groundwater visible. In addition, the supporting visualization can prove valuable in other professional areas as well, where situational awareness of inaccessible areas is key, e.g. in renaturalisation of polluted subsurface and underground bodies.
City tests
The solution is deployed in Berlin at selected drinking water wells and available for general use via major application providers (e.g. Google Play Store, Apple App Store). It is used to communicate with the public on major local issues, for example highlighting the excellent drinking water quality, fostering tap water consumption against bottled water and raising acceptance of citizens for necessary investments to tackle infrastructure challenges.
Contact solution
VRAGMENTS – Ronny Esterluss : ronny@vragments.com
VRAGMENTS – Stephan Gensch : stgensch@vragments.com