Co-organised by the European Commission, the German Federal Ministry for the Environment, the German Federal Environmental Agency and RAL, the EU Ecolabel Showroom is set to make its mark on Berlin from the 28th of September to the 4th of October 2020. Taking up residence on the lively Dorothea-Schlegel-Platz, the Showroom will display a selection of the best EU Ecolabel products and services, with a particular focus on goods and services available in Germany. And representatives of the digital-water.city team will be there, with project partner Kompetenzzentrum Wasser Berlin (KWB) set to host a workshop on Friday 2nd October, from 4pm – 6pm: 'Making urban water management eco'.
KWB's session will be part of the Showroom's action-packed programme of workshops and presentations by experts, consumer associations, producers and public figures on responsible purchasing, consumption and the little things we can do every day to take better care of our environment. Experts from KWB's team will tackle a range of topics at the crossroads of water and sustainability – from the intriguing concept of the 'Sponge city', to the digital innovations that can make Berlin's rivers and lakes safe for summer swimming.
Planning to be in Berlin on the afternoon of 2nd October? Be sure to drop by and join us at the Showroom between 4pm and 6pm to discover all about sustainable water management in the city, while finding out more on the EU Ecolabel and how it helps consumers make more eco-conscious choices.
Full details on the Showroom are available here (in German): https://eu-ecolabel.de/showroom
Please note that all relevant public health measures related to preventing COVID-19 will be implemented throughout the week, in line with the German authorities' guidelines.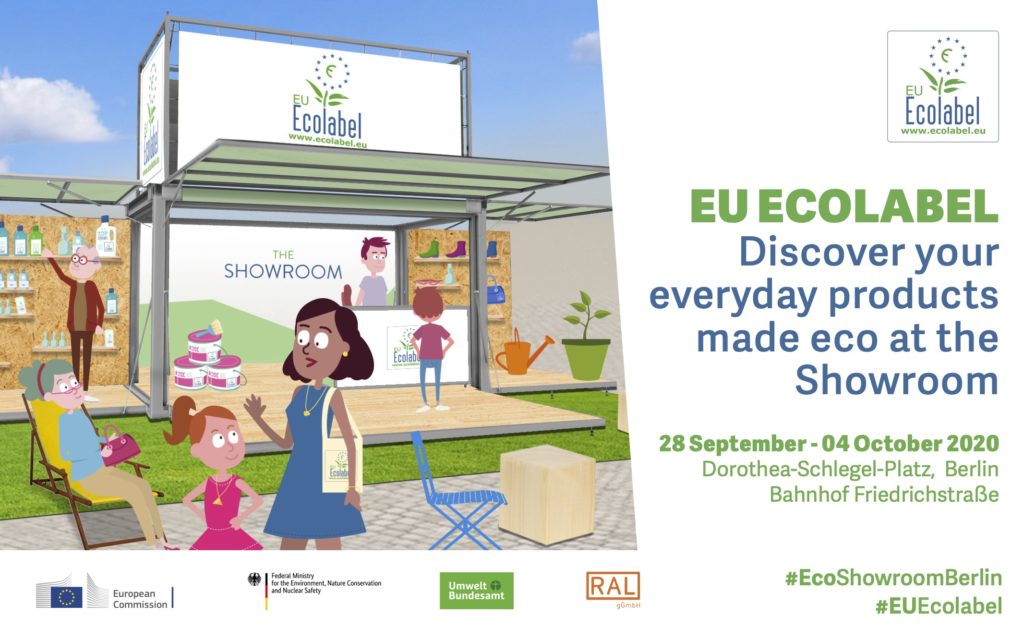 EVERYDAY ACTIONS FOR THE ENVIRONMENT
For 27 years, the EU Ecolabel has helped people to identify products and services that have a reduced impact on the environment. Thanks to strict and transparent ecological criteria, choosing EU Ecolabel helps consumers to make conscious choices without compromising on quality.
The EU Ecolabel is awarded to more than 70,000 products and services in Europe, in recognition of companies that choose to design sustainable, repairable products that encourage innovation and save resources. With about 6,000 products and services available on the national market, German consumers have a large range of opportunities to make truly eco-friendly choices and to contribute to EU's green recovery.