On 19 May, KWR Water Research Institute and EURECAT are organising the last online Fiware4Water workshop, which will be co-hosted by the DigitalWater2020 synergy group and the ICT4Water cluster. The aim of the workshop is to show how digital water solutions can support the implementation of EU policies and provide evidence for policy recommendations. 
Following an introduction by the European Commission, experts from Fiware4Water, Aqua3S, DigitalWater.city and the ICT4Water cluster will share their recent feedbacks through two main focuses recommendations for drinking water innovation and recommendations for waste water innovation.
DigitalWater.city work with our sister projects will be presented by Ulf Stein, from Ecologic and Dan Angelescu will present our solutions for bathing water management.
Check out the agenda of the event and how to register here.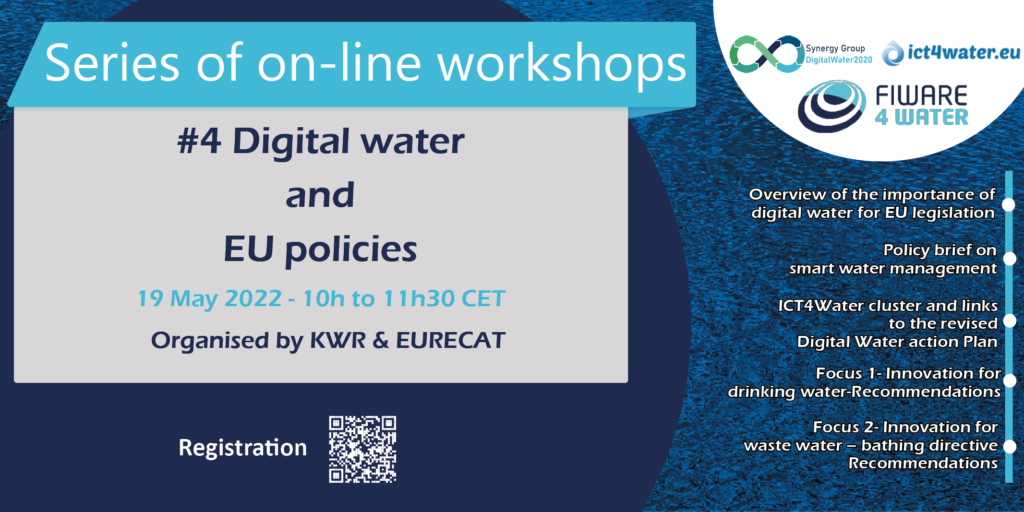 Date:
From 19 May 2022 to 19 May 2022
Time:
10:00-11:30h
ONLINE
IT'S A DIGITAL EVENT!